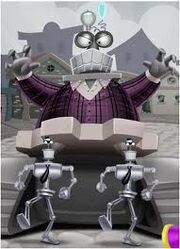 The VP is the supreme commander of the Sellbots. He appears in the following Fanfictions: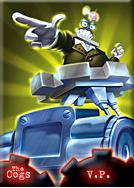 ==Personality and Traits==
The VP acts like he is the awesome new guy, but he was the first boss created by the Chairman. As time grew by, he had a sudden craving for the new popular drink " Apple Juice ". The VP would do almost anything just for a little paper cup of Apple Juice. The VP also does not like the taste of pie because it tastes " gooey ". The only thing he likes is drinking apple juice, and trying to find a cog servant.
Ad blocker interference detected!
Wikia is a free-to-use site that makes money from advertising. We have a modified experience for viewers using ad blockers

Wikia is not accessible if you've made further modifications. Remove the custom ad blocker rule(s) and the page will load as expected.