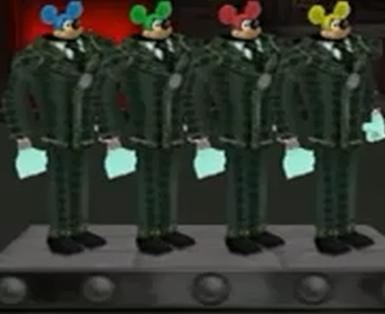 Chapter 1: The winners

It's the Jellybean day of 2011.
All toons celebrate, throwing jellybeans for the fun.
Everyone tries to catch the most jellybeans.
Flippy ancouced that the 3 Toons to get most Jellybeans there will get something new: A hat.
Black hole, the black cat is here too.
his hands are full of jellybeans. His backpack has no more room. his Jellybean pouch is full. His Golden piggybank has gone full also.
ATTN TOONS: 1 MINUTE LEFT. REPEAT: 1 MINUTE LEFT.
They heard some ancouncer voice.
60,
59,
58,
57,
56,
Hehe, it will be me! thinks black hole.
44,
43,
42,
41,
40,
...............
"ATTN TOONS: THE JELLYBEAN CONTEST ENDS IN THREE! TWO! ONE!"
NUMBER 1 IS "Jessica The Rabbit"
NUMBER 2 IS "Black Hole"
NUMBER 3 IS "FAT LOONY".
CONGRATULATIONS!
Jessica, an unknown to Black Hole rabbit yells Woo Hoo! NR 1! the whole time.
Then Flippy shows up. Come here winners! Ill give you the reward!
Jessica, Fat Loony, and Black Hole go upstairs the JellyBean Shop building, where the jellybeans were thrown.
As they enter the room where Flippy is, they see something not-so toony.
They see grey, black n' white spot. They slowly enter the room.
Creepy. thinks black hole. Its so 'cogish' around here.
The door behind them slowly closes.
They see someone or something come out of the corner of the dark room.
Black hole yells 'Flippy!'
then instead of flippy, a Robber Baron with a red mouse's head comes out.
"WELCOME TO YOUR DOOM. TOONS."
Chapter two: the flying "building"

A Toon in cog disguise. Im so scared. thought Black hole.
SILENCE! IM A TOONYCOG. NOT A TOON. said the Robber Baron.
Right now, all toons who were in the building are now STUCK INSIDE.
THE DOORS ARE LOCKED IN. WE ARE ABOUT TO FLY TO COG NATION.
WHERE YOU ALL BECOME A TOONYCOG.
The 'Toonycog' then disappeared in a hallway.
the door to the hallway was closed.
No way out.
"we are stuck in here"
"I don't wanna be a cog"
~cries~
That was all to be heard inside the room.
someone knocked in the door from the other side.
Black hole said 'Who's there?'
"Lord Lowden Clear" was the response.
We are stuck in this room! open the door! said fat loony.
Okay, said Lord Lowden Clear. give me a while.
BZZZZZZZZZZZZZZZZZZZZZZZZZZZZZZZZZZZZZZZZZZZZZZZZZZZ....
then the door fell open.
Resistance Rangers, Toon Troops, and Lord Lowden came in the room.
TOON TROOPS! RESISTANCE RANGERS! LORD LOWDEN CLEAR!!!!!!!!!!!!!!!!
IM YOUR BIGGEST FAN! "said" jessica the rabbit.
Chapter three: Chairman's Toon editor

NOT YET WRITTEN. Stay tooned!