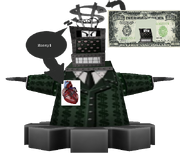 You found the sneak preview!
Edit
Sneak PreviewEdit
The Chief Financial Officer was riding around Cashbot HQ in his golden fancy car.
He ended up running over a 10000 dollar cogbuck
The CFO: Hooh
The CFO: HOOH...
The CFO: HOOH.....!!!
Hoohing soon
Ad blocker interference detected!
Wikia is a free-to-use site that makes money from advertising. We have a modified experience for viewers using ad blockers

Wikia is not accessible if you've made further modifications. Remove the custom ad blocker rule(s) and the page will load as expected.