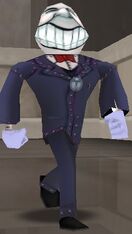 The Lawyer of Truth is one of the newly discovered Lawbots. They have a dynamically strange level range from Level 10-25. They can now be commonly found patrolling the Lawbot HQ Courtyard.  
Glower Power (24-30)
Gavel (15-25)
Guilt Trip (11-23)
Throwbook (10-18)
Finger Wag (14-28)
Ad blocker interference detected!
Wikia is a free-to-use site that makes money from advertising. We have a modified experience for viewers using ad blockers

Wikia is not accessible if you've made further modifications. Remove the custom ad blocker rule(s) and the page will load as expected.