Mr. Stabben decides to promote you from a Bottom Feeder to a level 8 Ambulance Chaser. You thank your boss for his kindness. You leave Toontown Central and move on to Lawbot HQ. You're one lucky coggy! Mr. Stabben seems to notice your hard work and then decides to promotes you to a Big Wig!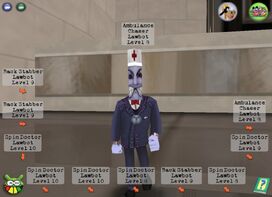 Mr. Stabben tells the CJ that you are in league to be one of his guards in the Courthouse.The toons attack, and when you came out of his undercarriage you see that there are only two toons on your side, both injured making it very easy to defeat them. One of the toons throws a birthday cake at you making you half dead because you are Level 12. What attack should you use?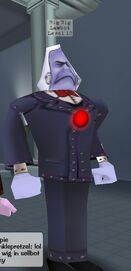 Ad blocker interference detected!
Wikia is a free-to-use site that makes money from advertising. We have a modified experience for viewers using ad blockers

Wikia is not accessible if you've made further modifications. Remove the custom ad blocker rule(s) and the page will load as expected.