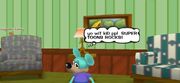 Created by JellyrollZillerwig.
The mouse gets up. The mouse looks around. The mouse eats cheese. The mouse sees his friends. The mouse than see his clan members. The mouse looks at things on the laptop. The mouse eats lunch. The mouse gets on the trolley. The mouse watches Doctor Who. The Mouse eats dinner. The mouse says bye to his friends. The Mouse goes to sleep. The whole thing repeats again. That is the life of a mouse.
Ad blocker interference detected!
Wikia is a free-to-use site that makes money from advertising. We have a modified experience for viewers using ad blockers

Wikia is not accessible if you've made further modifications. Remove the custom ad blocker rule(s) and the page will load as expected.